2 Position 3 Way Directional Control Valve
Model:23JR6-L8
Code:G404.38(QY:426)
Connection thread:2-Z 1/4"
Features:
1.The valve is stop reversal structure,switching quickly,good flow character.

2.Using pneumatic-piston and eccentric cam make minor force to control valve core.

3.23JR-L8,a combination valve is made up of 2-position 3 -way contro valve and decompression valve . It can change the air channel and regulate the pressure from 0 to 0.63MPa by handle.

Technical data:
diameter 8mm
effective area S value 20mm²
max pressure 1.00MPa

temperature -40--+60ºC

leakage 0 Nml/min

Model code: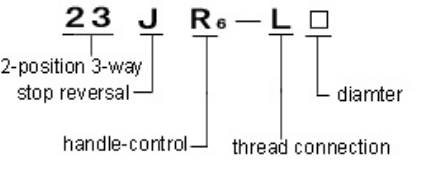 Available model:
23JR6-L6
23JR6-L8-F