Drilling Rig Hook
Features:
The body,the bail,and the bail support are cast with special alloy steel.
Equipped with a hydraulic snubber assembly to protect drill pipe joints when making up/breaking out connections.
At the hook there is a reliable safety device.
It is provided with a braking device to lock up & lock out the body.
The primary-load-carrying part of hook are subject to NDE test.
Specifications fo Hook
Model
Max. Load,kN
Spring travel,mm
Opening size of hook,mm

Overall dimensions

(L x W x H)mm

Weight,kg
DG-50
500
140
130
1660×522×500
419
DG-100
1000
140
150
1900×765×700
1310
DG-135
1350
150
165
1997×700×730
1685
DG-225
2250
180
190
2548×780×750
2175
DG-315
3150
200
220
2960×890×835
3430
DG-450
4500
200
220
2960×890×880
3520
DG-675
6750
2200
234
3705×1210×930
7065
DG-900
9000
250
305
4150×1135×1090
10500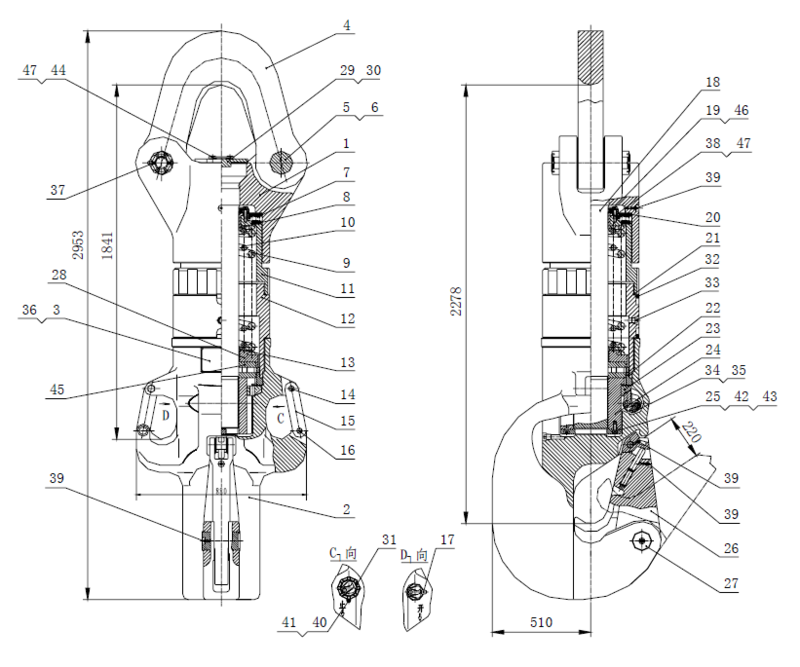 Spare list for Hook
Part name:
| | | | |
| --- | --- | --- | --- |
| 1 | Elevator link seat | 25 | Stop plate |
| 2 | Hook body | 26 | Safe tongue assembly |
| 3 | Nameplate | 27 | 27AC315002-26Safe pin roll |
| 4 | Elevator link | 28 | Spring seat |
| 5 | Elevator link pin | 29 | Locating plate |
| 6 | Cotter nut | 30 | 30AC315002-30Washer |
| 7 | Top spring | 31 | Press cap |
| 8 | Upper bushing liner | 32 | Locating block |
| 9 | Out spring | 33 | plug |
| 10 | Inner spring | 34 | Brake device assembly |
| 11 | Upper cylinder | 35 | Operation rod |
| 12 | Lower cylinder | 36 | Screw |
| 13 | Lower bushing liner | 37 | Cotter pin |
| 14 | Bolt pin | 38 | Bolt |
| 15 | Baffle plate | 39 | Oil cap |
| 16 | Baffle plate pin | 40 | Screw |
| 17 | Locating block | 41 | Spring washer 12 |
| 18 | Hook rod | 42 | Screw M16x40 |
| 19 | Oil sealing seat | 43 | Spring washer 16 |
| 20 | Locating disc | 44 | Bolt M24x50 |
| 21 | O-ring | 45 | Bearing 87436ZW |
| 22 | Stop ring | 46 | Oil seal PD 180x220x18 |
| 23 | Lock ring | 47 | steel wire Ф2 |
| 24 | Hook rod nut | | |
Part no.:
AC450003-00
AC675001-00
AC900001-14
AC45000302
AC675001-0100
A9591100
AC900001-2604
AC675001-0101
DG250001
AC450003

-

01

AC675001-0102
DG450001 NDC
AC450003

-

02

AC675001-0103
DG585001
AC450003

-

03

AC675001-010501
DG900001
AC315003

-

01

AC675001-010502
DG180001
AC315004

-

02

AC675001-0106
DG315003
AC315002

-

03

AC675001-0107
DG450003
AC315002

-

05

AC675001-0108
DG675001
AC315002

-

06

AC675001-010901
DG225003
AC315002

-

07

AC675001-0301
DG350002
AC315002

-

08

AC675001-0302
DG450004
AC315002

-

09

AC675001-0304
DG675002
AC180001-14
AC22500226
AC31500226
AC180001-15
AC22500229
AC31500229
AC180001-16
AC225002-31
AC31500230
AC180001-17
AC2250023200
AC315003-00
AC180001-18
AC2250023201
AC315003-01
AC180001-19
AC2250023203
AC315003-02
AC180001-20
AC225002-3206
AC315003-03
AC315002

-

18

AC675001-11B1
AC225002-3210
AC315002

-

19

AC675001-12
AC225002-3211
AC315002

-

20

AC675001-13
AC225002-321200
AC315002

-

21

AC675001-15
AC225002-321201
AC315002

-

22

AC675001-17
420201041124050060
AC315004

-

07

AC675001-19
420703020810014060
AC315002

-

24

AC675001-20
420201041112045060
AC315003

-

0400

AC675001-21
420101050704001006
AC315002

-

26

AC675001-22
420703020806304560
AC315002

-

28

AC675001-24
061302011152101000
AC315002

-

29

AC675001-25
420101121112002506
AC315002

-

30

AC675001-26
420503016121600000
AC225002

-

27

AC675001-28
420101121116004006
AC225002-28
AC675001-29
420503016161600000
AC315002-24
430109008743600000
AC315002-19
AC315003-0400
530301141802201000
AC315002-20
AC315002-26
60501021400000000
AC315002-21
AC315002-29
AC315003-01
AC315002-22
AC315002-30
AC315004-02
AC225002-3200
AC315002-28
AC315002-03
AC225001-3200
AC315003-01
AC315002-05
420101121116004001
AC315004-02
AC315002-06
430109008743600012
AC315004-04
AC315002-07
530301141802201824
AC315004-06
AC315002-08
060501021400000000
AC315004-07
AC315002-09
AC450003-01
420703020810016000
AC315004-04
AC450003-02
420201040616045000
AC315002-11B1
AC450003-03
61302011152101000
AC315002-12B2
420101053504001000
AC180001-13
AC225002-2505
AC180001-12
AC180001-21
AC2250023207
AC315003-0401B1
AC180001-22
AC2250023208
AC315003-01
AC180001-23
AC2250023209
AC315002-03
AC180001-2400
AC2250023210
AC315002-05
AC180001-2401
AC225002321201
AC315002-06
AC180001-2402
AC225003-01
AC315002-07
AC180001-2502
AC225003-02
AC315002-08
AC180001-2503
AC225003-03
AC315002-09
AC180001-2504
AC225003-0501B1
AC315002-11
061302011152101000
AC225004-04
AC315002-12B2
AC180001-25
AC225004-06
AC315002-13B1
AC180001-26
AC225004-07
AC315002-14
AC180001-27
AC225002-03
AC315002-16
AC180001-28B1
AC225002-16
AC315002-18
AC315004

-

04

AC675001-0305
AC225002-320500
AC315002

-

11

AC675001-04
AC225002-320501
AC315002

-

12B1

AC675001-05
AC225002-320502
AC315002

-

13B1

AC675001-06
AC225002-3206
AC315002

-

14

AC675001-07
AC225002-3207
AC315002

-

16

AC675001-08
AC225002-3208
AC315004

-

06

AC675001-10B1
AC225002-3209
AC225002

-

29

AC675001-31
530301141401701538
AC225002-3200
AC675001-33
430109008142800000
AC225001-3200
AC675001-36
040104030200002100
420101121116004000
AC315002-13B1
AC225002320501
AC315002-24
AC315002-14
AC225002-3206
AC315003-0400
AC315002-16
AC225002-27
AC315002-26
AC315004-06
AC225002-28
AC315002-28
AC315002-18
AC225002-29
AC315002-29
AC315002-19
AC225002-3200
AC315002-30
AC315002-20
AC225002-27
AC225002-27
AC315002-21
AC225002-29
AC225002-28
AC315002-22
AC225002-3200
AC225002-29
AC315004-07
AC225002-3201
420101121112002000
420503011161600000
AC225002-3202
420201041124050000
420201041124050000
AC31500224
AC225002-3203
AC225002-3204
420503011121600000
AC180001-00
AC2250013202
AC31500202
AC180001-01
AC22500205
AC31500203
AC180001-02
AC225002-06
AC31500205
AC180001-03
AC22500207
AC31500207
AC180001-04
AC22500208
AC31500208
AC180001-05
AC22500213B1
AC31500209
AC180001-06
AC22500219
AC31500212B2
AC180001-07
AC22500221
AC31500213B1
AC180001-08
AC22500222
AC31500214
AC180001-09
AC22500224
AC31500218
AC180001-10
AC225002-2502
AC31500219
AC180001-11
AC225002-2503
AC31500221
AC225002-2504
AC31500222