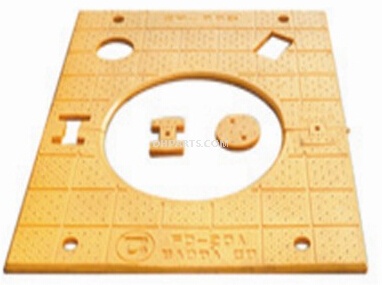 Design Features:
The pinion and gear set is made of alloysteel.
The extension and its keyway of thepinion shaft all meet API Spec 7K.
The master bushing made of steel castingmeets API Spec 7A in size. The pin drive is suitable for the roller bushing ofAPI square Kelly or hexagonal kelly, the long or short slip isused. The rotary table features the full lubrication and the reliable seal.
The model available at ZP175, ZP205, ZP275, ZP375, ZP375AS, ZP495,ZP205A
Keywords:bomco,rotary table,AG175001,AG205001,AG275001,AG275003,AG275005,AG375001,AG375003,AG375005,AG495001,AG605003
Part name:
| | |
| --- | --- |
| Ротор в сборе | Регулировочная прокладка |
| Основание | Регулировочная прокладка |
| Верхняя крышка | Пробка маслослива |
| Ротор | Входной вал |
| Большая шестерня | Регулировочная прокладка |
| Болт М20х60 | Клин |
| Прокладка М20 | Пробка |
| Подшипник 5617/650 | Крышка |
| Большая квадратная плитка | Болт М16X65 |
| Малая шестерня | Болт М12x35 |
| Нажимная крышка подшипника | Прокладка 12 |
| Болт М16х50 | О-кольцо 830X8.6 |
| Прокладка 16 | Уплотнительный кожух |
| Проволока ф3 | Нижний торец подшипника |
| О-кольцо 400X7.0 | О-кольцо 615X8.6 |
| Роликовый подшипник 53626 | Регулировочная прокладка |
| Коробка подшипника | Регулировочная прокладка |
| Роликовый подшипник 32626 | Болт М20X65 |
| Болт М20х45 | Болт М12X40 |
| Болт М16х50 | Стопорная планка |
| Прокладка 16 | Подшипник 5617/620 |
| Торец маленького подшипника | Шестигранний болт M24X80 |
| Уплотнительное кольцо B150х180х15 | Прокладка 24 |
| Клин | Тормозное устройство |
| Винт М6х25 | Указатель уровня масла |
| Гильза | Пробка |
| О-кольцо 128X3.55 | |
Part no.:
| | |
| --- | --- |
| P1700927AA | 4313100020 |
| 4500100509 | 4500100511 |
| P1100906AA | Z16140100023AA |
| 4500100508 | P3000072AA |
| 4301320045 | Z16141100001AA |
| Z16140000027AA | 4315616050 |
| Z16140200015AA | 4317100016 |
| Z16140300004AA | P9990118AA |
| Z16140400003AA | 4301316050 |
| P3000071AA | 4313100016 |
| 4300320060 | P7000113AA |
| P1400367AA | P1700928AA |
| P1700929AA | P5400163AA |
| P1001213AA | 4320516035 |
| P1000514AA | 4315616065 |
| P1200248AA | 4301312035 |
| P2400426AA | 4313100012 |
| P1001214AA | P1700930AA |
| P5400164AA | P1100908AA |
| Z16140800001AA | P7000114AA |
| P0000311AA | P1700931AA |
| 4500100510 | P1000516AA |
| 4319124080 | P1000512AA |
| 4317100024 | 4301220065 |
| Z16140600002AA | 4301312040 |
| Z16140900001AA | P6005814AA |
| P1200249AA | |
Rotary table ZP375H RT Parts list
| | |
| --- | --- |
| ZP009.01.00 | Upper cover |
| ZP009.02.00 | Welded casting base |
| ZP001.03 | Left detent |
| ZP001.04 | Right detent |
| ZP001.05 | Pin of operating lever |
| JB/T7940.1 | Oil cup |
| ZP001.06 | Screw plug |
| ZP001.07.00 | Operating lever |
| GB/T70.1 | Screw |
| GB/T818 | Screw |
| ZP001.09.00 | Oil level gauge |
| ZP001.10 | Pin |
| GB/T91 | Split pin |
| ZP001.11 | Brake block |
| ZP001.12 | Hook bolt |
| ZP001.13 | Nut |
| ZP001.14 | Washer |
| Q11F-16 | Internal threaded ball valve |
| GB/T3289.26 | Inner connector |
| ZP001.15 | Detent pin |
| ZP001.16 | Screw plug |
| ZP001.17 | Mud wiper |
| ZP009.05.00 | Turn table unit |
| ZP001.19.00 | Master bushing unit |
| ZP001.20.00 | Bushing unit |
| ZP009.06.00 | Input shaft assembly |
| ZP001.22 | Universal shaft coupling |
| ZP001.23.00 | Screw plug |
| ZP001.24 | Gasket |
| ZP001.25 | Retainer ring |
| GB/T5783 | Bolt |
| GB/T93 | Washer |
| ZP001.26 | Sprocket |
| ZP001.27 | Sprocket |
| ZP001.28 | Sprocket |
| ZP001.29 | Bushing |
| ZP001.30.00 | Bushing lifting ring |
| ZP001.51.00 | Roller bushing |
| | |
| --- | --- |
| ZP009.05.01 | Big gear wheel |
| ZP009.05.02 | Turn table |
| 2687/1049 | Bearing |
| ZP001.18.03 | Cylindrical pin |
| ZP001.18.04 | Bottom seat race |
| Q/HG16-019-63 | O-strip |
| GB/T70 | Screw |
| GB/T93 | Washer |
| ZP001.18.05 | Gasket |
| ZP001.18.07 | Gasket |
| ZP001.18.06 | Gasket |
| ZP009.06.00 | input shaft assembly |
| ZP009.06.01 | Small bevel pinion |
| GB/T 283 | Bearing |
| Q/HG16-019-63 | O-strip |
| ZP009.06.02 | Input shaft |
| ZP001.21.03 | Spacer sleeve |
| ZP001.21.04.00 | Bearing sleeve |
| GB/T 288 | Bearing |
| ZP001.21.05 | Gasket |
| ZP001.21.06 | Gasket |
| GB5783 | Bolt |
| GB93 | Washer |
| GB/T13871 | Shaft sealing ring |
| ZP001.21.07 | Right bearing cover |
| ZP001.21.08 | Shaft sleeve |
| ZP001.21.09 | Key |
| ZP001.21.10 | Retainer ring |
| GB32.1 | Bolt |
| GB32.1 | Bolt |
| | Iron wire |
| ZP001.21.11 | Bearing clamp plate |
| ZP001.23.00 | Screw plug |