Hydraulic disc brake system consists of three parts: brake actuation mechanism, hydraulic power unit and control system.
These three parts are connected through hydraulic pipeline.
The hydraulic power unit is the hydraulic power supply unit, which provides necessary hydraulic power for the
actuation mechanism;
The control system is the hydraulic power control unit;
The actuation mechanism is the braking actuation unit, which consists of braking caliper, caliper frame and friction disc, and the braking calipers include normal open service calipers and normal closed safety calipers.
This brake system has the following four functions:
1. Service Brake Through operating the handle of the brake valve, adjust the service caliper's normal pressure on the friction disc. So
provide adjustable braking torque to the rigs to meet requirements in different working conditions, such as bit feeding, tripping etc.
2. Emergency Brake Under emergency condition, press the Red emergency brake button, the service calipers and safety calipers will all applied to realize emergency stop.
3. Over-winding Protection When the hook is lifted to a certain height with load the service brake should be actuated but not did, due to the
driller's failure in operation and some other reasons, the over winding or colliding prevention valve will give a signal to the service calipers and safety calipers to realize emergency stop for preventing crown block accident.
4. Parking Brake When the drilling rig will stop working or the driller wants to leave the driller's station, pulling down the parking brake handle will realize safety calipers braking to prevent the hook from sliding.
In addition, according to customer's requirements the function of Mistaken Operation Protection can be added. What is called Mistaken Operation Protection is In case that the driller releases parking brake and emergency brake without following requirements of regulations, all braking calipers will come into braking condition to realize safety protection.
Types

Description

Values of parameters

PSZ75

PSZ65

Service

Caliper

Max.normal pressure on single side

75 kn

65 kn

Effective stroke

30mm

Permitted min. thickness of the brake pad

12mm

Profile dimension(mm)

580*415*420

570*390*400

Weight

200 kg

180 kg

Safety

Caliper

Max.normal pressure on single side

90 kn

65 kn

Max.clearance of the brake pad

1 mm

Permitted min. thickness of the brake pad

12 mm

Profile dimension(mm)

610*415*420

600*390*400

Weight

220

200

Hydraulic

system

Rated pressure

8 Mpa

6 Mpa

Working medium

In summer

L-HM46

In winter

L-HV32

Rated flow of single pump

18 L/min

Capacity of oil tank

80 L

Power of motor

2.2 kw

Capacity of the accumulator

4*6.3 L

Power of heater

1 kw

Rated flow of cooling water

2 m3/h

Profile dimension(mm)

1160*960*1220

Weight

650 kg
A. Brake Actuating Mechanism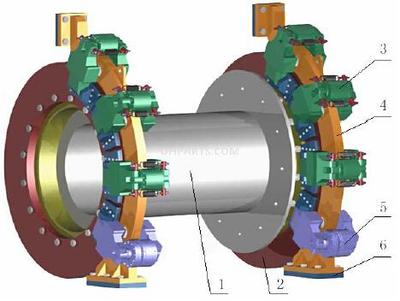 1.Drum 2.Friction Disc 3. Service Capiler 4.Capiler Frame 5.Emergency Caplier 6. Mounted Base
A.1 The service caliper consists of mainly normal open single-action cylinder, disc springs, lever and brake pad
A.2 The safety caliper consists of normal closed single-acting oil cylinder, disc spring, lever and brake pad
A.3 The friction disc, which forms the brake pair with brake pad, is one of the core components. Usually, each set of product is
provided with two friction discs, which are mounted on both ends of the drawworks drum.
According to structures, friction discs are classified into three types: water cooling, air cooling and solid discs.
A.4 The caliper frame is the base of the actuating mechanism. The service caliper and the safety caliper are mounted on this base.
Usually, two provided caliper frames are mounted on the base of the drawworks, located in front of both ends of the drum.
B.The hydraulic power unit includes: oil tank assembly, pumps, control block assembly, oil filling assembly and electrical control
box.
C.The control system includes braking valve assembly, parking brake valve assembly, control valve group, pipes and pressure
meters.
Application: Used for drawworks of drilling rig ZJ120,ZJ90,ZJ70,ZJ50,ZJ40,ZJ30,ZJ20,ZJ15,ZJ10 etc.
We provide disc brake parts for 17 models PS120,PS90,PS80,PS75,PS70,PS65,PS50,PS25,PSX50,PSZ65,PSZ75,PS35,PS40,DBS75,DBS65,DBS50,DBS30
Disc Brake parts include:

Disc Adapter
BA Seal Ring 105
Disc
Body, Cylinder
Emergency Caliper Assembly
BA Seal ring 75
Main Caliper Assembly
O Ring
Caliper Support Arm
Pressure joints
Lower Bridge Piece
Adapter of Injecting Valve
Washer
One-Way Oil Injecting Valve
Bolt
14 Combined Seal Washer 14
Curbed Beam
Screw Plug
Upper Bridge Piece
Bush
Spacer
Bolt of Cover Plate
Bush
Cover Plate
Bush
Bush
Brake Block
Bush
Plate Assembly, Brake Pad
Caliper Lever
Bush
Bush
Bolt of Brake Block
Bush
Washer
High-pressure Rubber Hose
Long Bolt of Brake Block
Liquid Thermometer
Lever Assembly, Service
Air Filter
Pin, Brake Pad
Elastic Coupling
Spacer 42
3KW Explosive-proof Motor
Pin, Caliper Pivot
Constant Voltage Plunger Pump
Cap Screw
One-way Valve
Plate, Pivot Pin Retainer
High Pressure Globe Valve, Plate Type
Pin, Cylinder
Accumulator
Spacer 35
Automatic Flood Valve
Pin, Emergency Support
Cooler
Spring, Caliper Return
Pressure Joint
Main Service cylinder assembly
Pressure Hosepipe
Pressure joints
Pressure Gauge, Shock-proof
Body, Cylinder
HDX-25X10
Combined Seal Washer 18
Flip Type Pressure Pipeline Oil Filter
Hollow Adapter
SPX-06X25
Articulated Body
Rotary Pipeline Filter
Bolt of Articulated Body
High Pressure Globe Valve
BA Seal Ring

125

Oil Return Filter
F3 Wiper, Rod
1KW Electric Heater, Explosive-proof
A5 Dust-Proof Ring
High-pressure Rubber Hose
Working Plunger
Quick Coupling
BA Seal ring

75

Hand Pump
O Ring
PVC PVC Tube
Plunger Assembly, Adjustable
High Pressure Ball Valve
Adapter of Injecting Valve
Explosive-proof Electric Cabinet
One-Way Oil Injecting Valve
Pilot Operated Directional Control Valve
Combined Seal Washer 14
Explosion-proof Solenoid Proportional
Screw Plug
Pressure Reducing Valve
Bush
Temperature Controller, Explosion-proof
Bolt of Cover Plate
Pneumatic Operated Directional Valve
Cover Plate
Solenoid Valve, Explosion-proof
Bush
Pneumatic Operated Directional Valve
Bush
Explosion-proof Solenoid Valve
Caliper Lever
Air Supply Adapter
Bush
Air Supply Support
Bush
Frame
Spacer
Manhole Cover
Bush
A10V Pumps and Motors
Brake Block
Liquid Thermometer
Bush
Quick Joint
Plate Assembly, Brake Pad
H3 Joint, Valve
Bolt of Brake Block
H3 Joint, External
Washer
Hand Pump
Long Bolt of Brake Block
Pipe Filter
Pin, Brake Pad
Explosion-proof Electric Cabinet
42
Pressure Gauge
Pin, Caliper Pivot
Control Valves
Cap Screw
Oil Return Filter
Plate, Pivot Pin Retainer
M33X2 Oil Return Filter
35
Joint
Pin, Cylinder
Air Filter
Lever Assembly, Emergency
Temperature Controller,
Emergency Cylinder Assembly
Explosion-proof
Bush
1 Sizing Block 1, Electric Cabinet
Pin, Emergency Support
2 Sizing Block 2, Electric Cabinet
Plunger Assembly, Adjustable
Cooler
Bolt of Articulated Body
High-pressure Ball Valve
Articulated Body
Hollow Adapter
Electric Heater, Explosion-proof
Combined Seal Washer 18
Heater Flange
A5 Dust-Proof Ring
High-pressure Ball Valve
C2 Seal Ring
Rc3/4 Rc3/4 Joint
Bolt of Emergency Cylinder
Oil Tank
Screw Plug
22 Pipe Clamp
Washer 12
Oil Pumping Joint
Cap
Emergency Brake Knob
Ring, Guide
Parking Brake Button
Spring
Restart Button
Working Plunger
Joystick
F3 F3 Wiper, Rod
Pressure Gang
Amplifier Surppot
Terminal board
Amplifier
Switch
Power
Relay
Explosion-proof box
Disc Brake Part no.:
| | |
| --- | --- |
| H-05 | BG-06 |
| P-04 | BG-82 |
| BQ-00C | BG-81 |
| KQ-00 | BQ-53 |
| J-03 | BG-41 |
| J-0305 | BG-61 |
| J-0304 | BG-72 |
| J-0303 | BG-42 |
| J-0302 | BG-31 |
| J-0301 | BB-57 |
| KQ-16 | BB-20 |
| KQ-34 | BB-38 |
| KQ-32 | BB-37 |
| KQ-21 | BB-18 |
| KQ-15 | BB-35 |
| KQ-33 | BB-36 |
| KQ-50 | PY-DQ-10 |
| KQ-52 | PY-DQ-01 |
| KQ-49 | PY-DQ-02 |
| KB-00 | PY-DQ-04 |
| KQ-11 | PY-DQ-07 |
| KQ-56 | PY-DQ-41 |
| KQ-10 | PY-DQ-09 |
| KQ-51 | PY-DQ-21 |
| KQ-14 | PY-DQ-22( PY-DQ-22JN) |
| KQ-08 | PY-DQ-12 |
| KQ-55 | PY-DQ-13 |
| KQ-12 | PY-DQ-20 |
| KQ-48 | PY-DQ-17 |
| KG-00 | PY-DQ-18 |
| KQ-53 | PY-DQ-15( PY-DQ-15X) |
| KG-03 | PY-DQ-16( PY-DQ-16X) |
| KG-71 | PY-DQ-06 |
| KQ-54 | PY-DQ-14( PY-DQ-14X) |
| KQ-59 | PY-DQ-05 |
| KQ-58 | PY-DQ-27 |
| KG-85 | PY-DQ-28 |
| KG-84 | PY-DQ-03 |
| KG-83 | PY-DQ-19 |
| KG-02 | PY-DQ-11 |
| KG-82 | PY-DQ-23 |
| KG-81 | PY-DQ-27 |
| KG-01 | PY-DQ-26 |
| KG-41 | PY-DQ-38 |
| KG-61 | PY-DQ-29 |
| KG-72 | PY-DQ-40 |
| KG-42 | PY-DQ-42 |
| KG-31 | PY-DQ-10 |
| KB-57 | PY-DQ-43 |
| KB-20 | PY-DQ-44 |
| KB-38 | PY-DQ-45 |
| KB-37 | PY-DQ-46 |
| KB-18 | PY-DQ-47 |
| KB-35 | PY-DQ-48 |
| KB-36 | PY-DQ-49 |
| BQ-17 | PY-DQ-50 |
| BQ-32 | PY-DQ-51 |
| BQ-22 | PY-DQ-52 |
| BQ-33 | PY-DQ-53 |
| BQ-15 | PY-DQ-54 |
| BQ-50 | PY-DQ-55 |
| BQ-52 | PY-DQ-56 |
| BQ-49 | PY-DQ-57 |
| BQ-11 | PC-DP-04 |
| BQ-56 | PC-DP-03 |
| BQ-10 | PC-DP-02 |
| BQ-51 | PC-DP-01 |
| BQ-14 | PY-YQ-18 |
| BQ-55 | PC-D-11 |
| BQ-09 | PC-D-10 |
| BB-00 | PC-D-09 |
| BG-00C | PC-D-08 |
| BQ-34 | PC-D-07 |
| BG-13 | PC-D-06 |
| BG-01 | PC-D-05 |
| BQ-58 | BG-45 |
| BQ-59 | BG-04 |
| BQ-54 | BG-05 |
| BG-71 | BG-47 |
| BG-87 | BG-07 |
| BG-86C | BG-88 |
| BG-44 | BG-89 |
| BG-46 | |