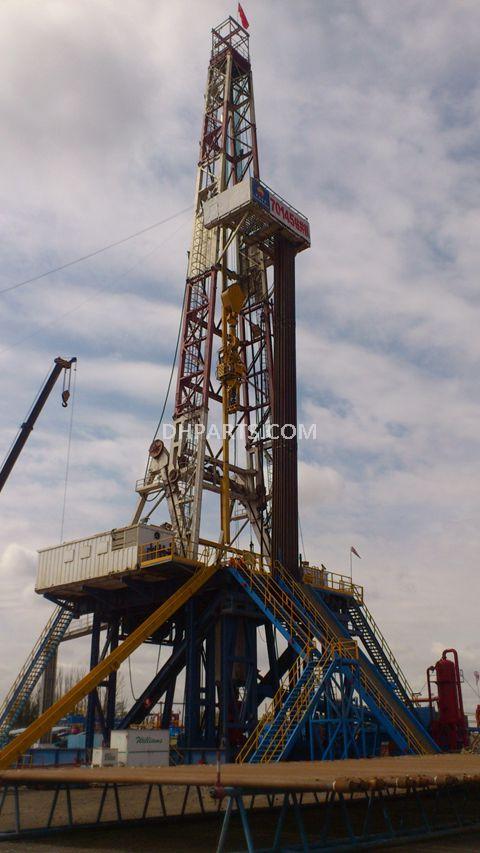 1)BOMCO Oil Rig & F Series Mud pumps
Baoji Oilfield Machinery Co., Ltd (BOMCO), as a leading one in researching,designing, manufacturing and assembling Oil Drilling Rig and equipments for oilexploration and development since 1970s. It belongs to CNPC. Complete sets of onshore and offshore drilling rig and relating equipments could be produced. It produced most drilling rigs in 2005 in the world.
Main products: drilling rigs including AC VFD, DC, diesel engine and gear,chain, hydraulic and belt drive, truck-mounted and trailer-mounted series,ranging from 1,000 meters to 12,000 meters in drilling depth; a series of API7K-compliant mud pumps ranging from F-500 to F-2200; CGDS-I, a near-bitgeosteering system for well drilling, consists of the CAIMS (China AdjustableInstrumented Motor System), WLRS (Wireless Receiver System), CGMWD (ChinaGeosteering MWD), and the CFDS (China Formation/Drilling Software System).CGDS-I has three major functions: logging/measurement, transmission andsteering.
2)LanzhouLS-National Oilwell Petroleum (NOW) oil rig
Lanzhou LS-National Oilwell Petroleum Engineering Co. Ltd. (LS-NOW forshort) is a Sino-American Joint Venture established between LanzhouPetrochemical Machinery Equipment and Engineering Group Corporation (LS Group)and National Oilwell International, Inc. (NOI) since 2001.
Scope of business: design and manufacture complete land and offshore drillingrigs and oil service rigs, and provide relating equipment package, components,parts and full services.
Main products: oil drill rigs that are electrical or mechanical orelectrical-mechanical compounded driven and suitable for different applicationssuch as land, shallow, offshore and desert and meet the requirements of drilling and oilfield services. The drilling depth ranged from 1000 to 9000meters.
3) HH (Honghua) Oil Drilling rig
Sichuan Honghua Petroleum Equipment Co., Ltd., established in 1997, is asubsidiary of Honghua Group which has been listed successfully in the StockExchange of Hong Kong. The company has been engaged in research, design,manufacturing and general assembly of Oil Drilling Rig and equipments for oil exploration and development. Now it is the world's second land drilling rigmanufacturer, and China's largest exporter of drilling rigs.
The company owns five subsidiaries totally in home and abroad, with annualoutput of 150 drilling rigs and 600 mud pumps etc.
The company produces mainly various land drilling rigs for drilling 1000m to 9000m wells and offshore drilling modules– DC drive drilling rig, AC VF electricrig, mechanical drilling rig, composite drive rig, trailer mounted rig andindependent RT electric drive drilling rig, as well as their matchedequipments, i.e. drilling pumps, traveling block system, solid control system,electric control system etc.

4)RG Petro-Machinery Oil drilling rig for lowtemperature zone
RG PETRO-MACHINERY (GROUP) CO. LTD is a stock company, reorganized from Nanyang petroleum machinery plant (former No.2 Petroleum MachineryManufacturing Plant of National Petroleum Industrial Ministry of China in1969). RG has possessed 16 production plants for forging, metal machining, heattreatment, steel-structure manufacturing, general assembly, painting and new product trial production, and 3 comprehensive testing sites for drilling rigsas well as 2 Sino-American joint ventures and 2 share-holding joint ventures.
RG could provide 12 series of products in 200 kinds, including skid-mounteddrilling rig, truck-mounted drilling rig, trailer-mounted drilling rig,workover rig, offshore drilling/workover equipment, solid control and mudcirculation equipment, oilwell logging equipment, petroleum special Vehicle,top drive drilling equipment, Hydraulic water drilling rig,mud pump,hoisting and rotaryDrilling equipment and related spare parts, etc.

5) Jianhan Siji (SJ Petroleum) Oil Drill Rig
SJ Petroleum Machinery Co., founded in 1941, belongs to Sinopec.
It supply four major categories of products including drilling & workoverequipment, production equipment, offshore drilling & production equipmentand high pressure manifolds, 12 families and more than 200 types of products.
Its star products include pumping units, workover rigs, cementing units,fracturing packages, fracturing pump and high pressure fluid control products.
New products include modular rigs, Big Easy rigs, snub rigs, fracturingquintaplex pumps and mud pumps, etc.
6) Kerui Oil drilling rig
Shandong Kerui Holding Group, established in 2001, has become aninternational comprehensive enterprise with business scope covering: theresearch, development and manufacture of the petroleum drilling and wellservice equipment, oil production, wellhead & downhole tool and the specialoperation equipment in oilfield, manufacture and assemblage of natural gascompressor, R&D and manufacture of natural gas, coalbed methane & shalegas process equipment and oilfield energy saving electrical product, oilfieldexploration development comprehensive solution and technical service ofpetroleum engineering, etc.
The main products include oil drilling rig equipment, Oil pumpingequipment, Special equipment for oilfield, Oilfield tubing system and auxiliarymachines and tools. Kerui manufactures various workover rigs and drilling rigswith drill depth from 3000m to 9000m.
7) Shanghai 3H oil drilling rig
The 3H(Shanghai) Petroleum Equipment Co., Ltd. , established in 2001, isthe first rig manufacturer that introduces ship-building technology to thefabrication of petroleum equipment.
main business activity covers the design and manufacture of the followingseries of: electrical, mechanical drilling rigs, and electro-mechanic rigs withthe drill depth from 2,000 meters to 9,000 meters; module offshore drilling andworkover platforms, module offshore drilling rig, polar drilling rigs, andtruck mounted rigs; electrical driving control and system, and; main rig componentsof crown blocks, traveling blocks, hook, mud pump, swivel, and etc.
8) Shengli Highland Oil drilling rig
Shengli Oilfield Highland Petroleum Equipment Co., Ltd, Established in1992, was a private incorporated manufacturer of petroleum equipments locatedin Dongying city, Shandong province, the PRC.
Now company has five classes of products/services: Drilling Equipments,Production Equipments, Tubular Goods, Oilfield Service and Chemicals, whichincludes dozens kinds of series products. We are able to design, manufactureand provide all these series of products, technical services and OEM parts.
9) THpetro truck mounted drilling rig
Tonghua Petro·chemical Machinery Manufacture Co., Ltd., founded in 1958, isone of the earliest oilfield manufacturers in China.
The current product lines include workover & drilling rig series, oilfield environmental protection equipment series, oil recovery machinery seriesand water well & mineral drilling machinery series.
10) Tefico land rig
Shaanxi TEFICO Petroleum Mechanical And Electric New Technology Co., Ltd.(Tefico) located in Baoji, China biggest drilling rig manufacture center, andowning a strong technical expert team with nearly 30 years experience, has beendedicated to ensuring customers receive the highest quality land drilling rigsand drilling equipments for Oil, Gas , Geothermy, Shale Gas and Coal BedMethane since 2000.
TEFICO supplies customer-focused solutions that best meet the quality,productivity, and environmental requirements of the energy industry.
TEFICO is provides complete land drilling rigs for sale and rental and majormechanical components, such as mast, substructure, crown block, rotary table,drawworks, travelling block, hook, mud pump, top drive. TEFICO is also aproject management company hence it can work as a subcontractor to join projector partner with clients in all relevant project.